The Visitor Center & Tasting Room is open
The tasting room is open from 11:00 a.m. to 5:00 p.m. every day for visits and oil tastings. Oil tastings are by reservation.
We also offer a selection of wines by the glass to enjoy out on the patio.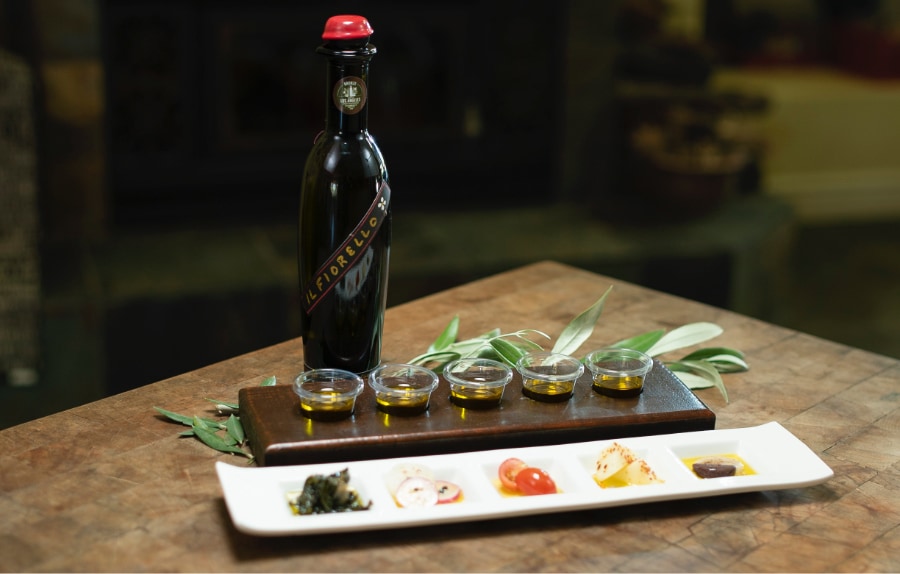 Olive Oil Tasting
Offered daily at 11 am, 1 pm, 3 pm. Reservations are required, 14 ppl maximum. $25 per person. Club members receive special pricing.
Enjoy a comparative tasting of our Extra Virgin Olive Oils, Co-Milled Oils, and Balsamic Vinegar Reductions. Led by our experienced staff, you will learn how to appreciate olive oils & enjoy a chef-crafted food pairing to expand your palate. Reserve ahead of Charcuterie & Cheeseboards or Soup of the Month.
If you have a party of 10 or more, please give us a call at 707-864-1529 to book your experience.
Home Tasting Experience
If you cannot come to us for our unrivaled olive oil tasting experience, we can send the experience to you. You will sample some of our most popular products, learn how to taste olive oil, and pair oil with great foods. This kit includes everything you need to host your very own olive oil tasting for up to six people.
Dining at IL Fiorello
Lavender Luncheon
June 9, 10 & 11
SOLD OUT
Cucumber Soup
Edible Flowers
Moraiolo Extra Virgin Olive Oil
Herb & Lavender Garden Salad
Cucumbers, Tomatoes, Peppers, Greens, Kale, Chard,
Edible Flowers
Purple Haze Goat Cheese
Blackberry Lavender Balsamic Vinegar Reduction
Lavender Stuffed Pork Loin
Sautéed Kale & Ancient Grains
Whole Roasted Lemons
Frantoio Extra Virgin Olive Oil
*  Vegetarian Option Available
Dessert
Honey-Lavender Gelato
Lavender Pizzelles
Special Drinks
Lavender Lemonade $5.00
Lavender Martini $12.00
The From The Farm Menu is available daily
Wine, Beer & Libations – serving local and Organic beer and
wines, along with House-Made Specialty cocktails, seasonally crafted.
Reservations: We require a credit card to hold your reservation for dining at IL Fiorello
24-hour cancellation policy prior to the reservation date.
The cancellation fee is $ 25.00 per person.
No Shows will void your reservation and no refund will be issued.
We staff appropriately and specifically prepare food in advance for every guest.
All parties of 6 or more guests will be charged a 20% service fee.
We allow a 15-minute grace period.
Groups of 16 or more are considered an Event
Please contact us regarding our event pricing & availability.
Thank you for your understanding and support of IL Fiorello.

Join Us For A Tour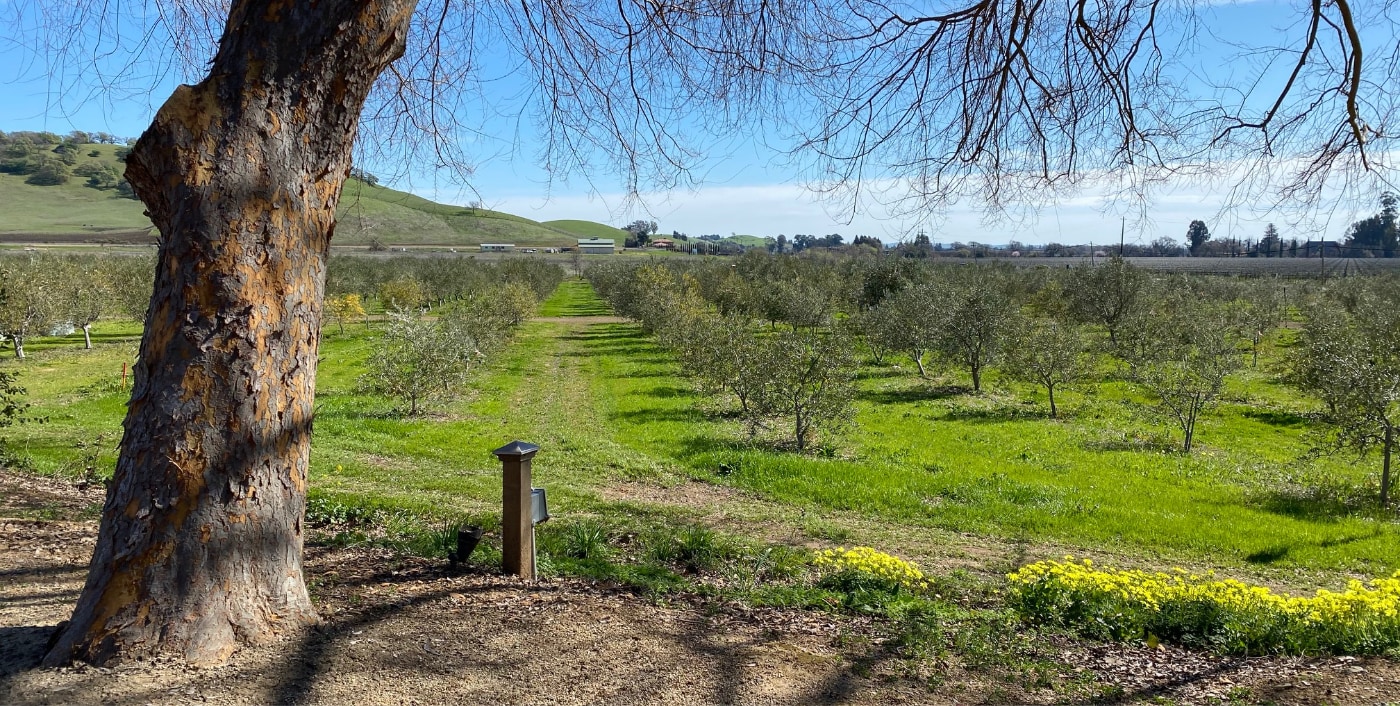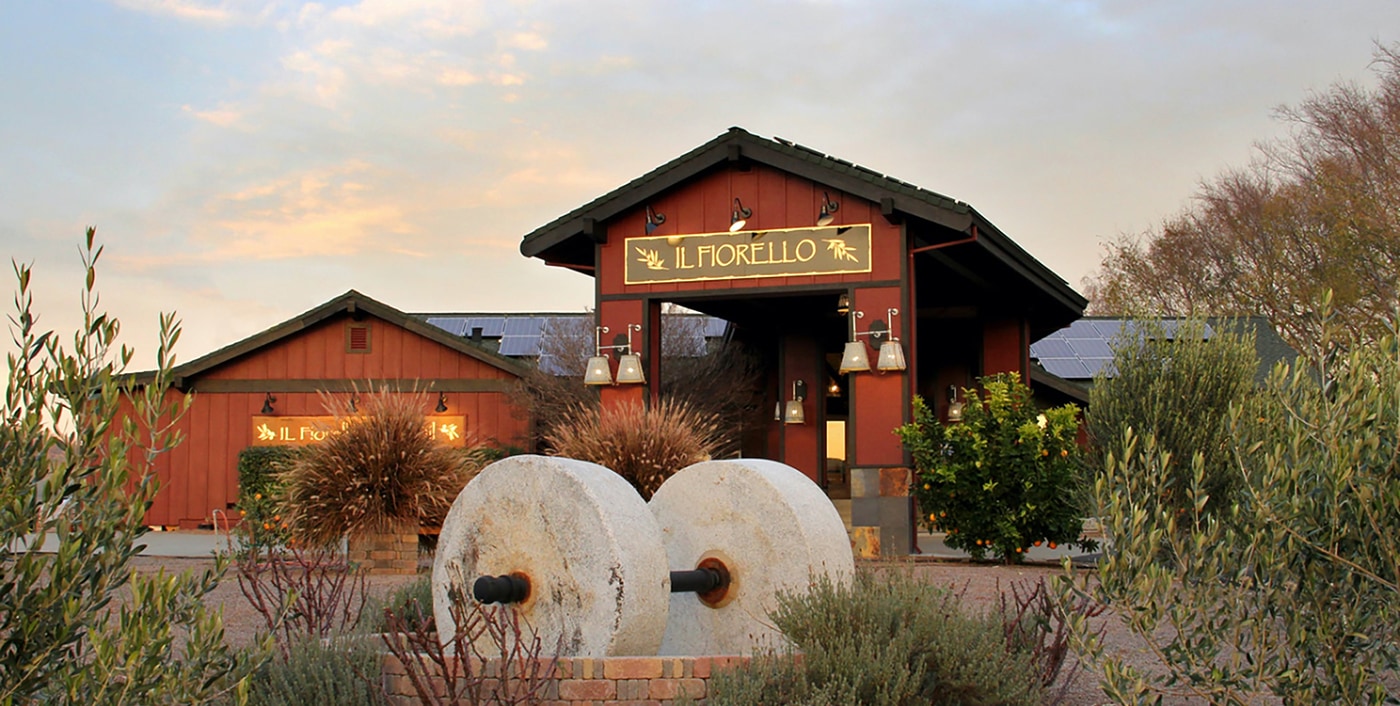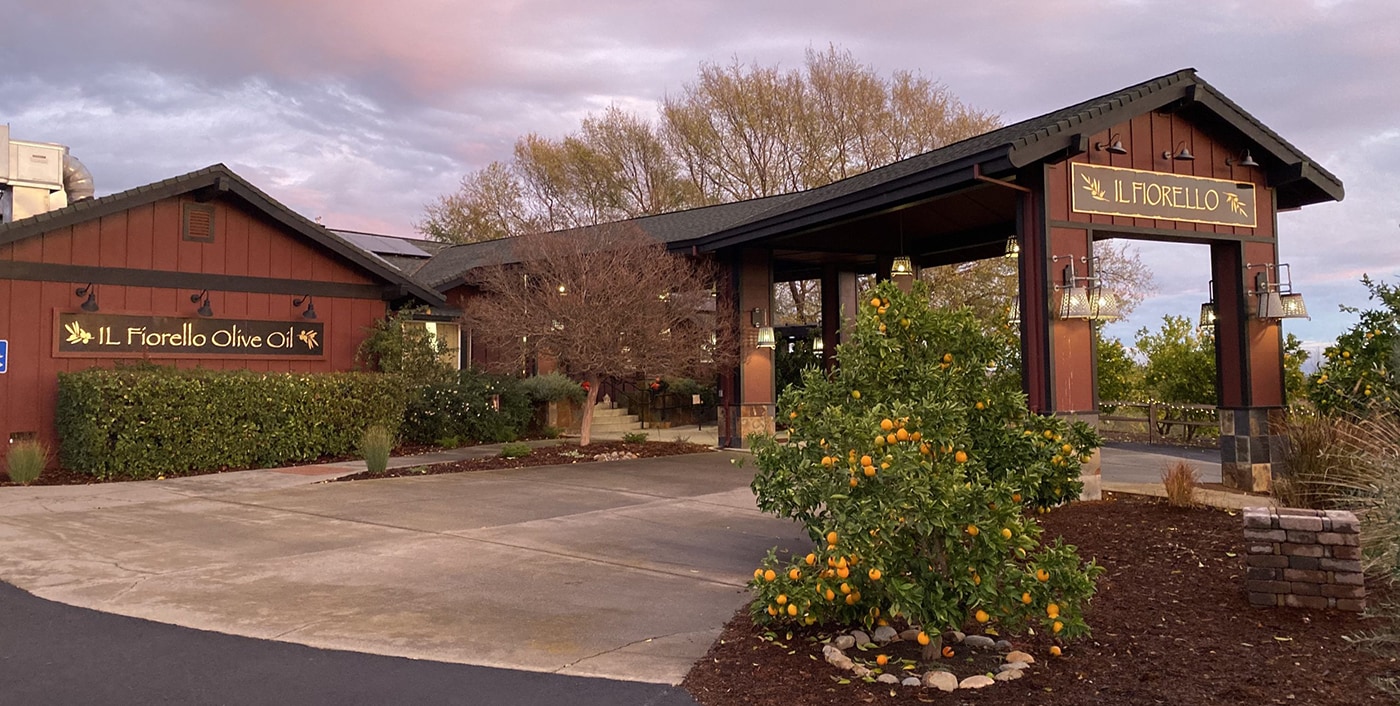 Farm & Mill Tours
Tours generally commence at 10:00 a.m. and are available most days of the week. Reservations are required. The time limit is 2 hours ($45/person)
During the tour of our organic property, we discuss the history of olive oil, the significance of the term extra virgin, and the production of our international award-winning olive oils. We visit the olive grove to look at the different olive varieties and how we care for our trees. The tour continues with a visit to our state-of-the-art Pieralisi Gold olive mill, capable of milling 3 tons of olives an hour. We conclude with a guided tasting of our olive oils and balsamic vinegar reductions.

Visiting Resources
SUISUN VALLEY ACCOMMODATIONS
Guests attending weddings or events in Suisun Valley can choose from a variety of accommodations in and around the valley. A wide array of fully-equipped, high-end homes and farm stays are available for friends or family who wish to spend time together while visiting the area. Companies such as Airbnb and VRBO are a good source of homes available for short-term rent. Suisun Valley is located in Fairfield, CA for search purposes.
Some of the most popular furnished homes in Suisun Valley include:
In addition to these, there are dozens of hotels in Fairfield. The two closest hotels to Suisun Valley are Staybridge Suites and Homewood Suites, both on Business Center Drive in Fairfield.