May 2021
We are in full-on olive blossom set! Olive pollen everywhere. The Pendolino trees are doing their job of pollinating all the other olives. The Suisun wind is helping move the pollen around the Grove.
This year looks like it will be a good year for production.  Given that last year was so poor for everyone, this is a very welcome sign for our milling community this Fall. The blossoms are covering the ground and the little olives are beginning to set. A very exciting time in the Grove.
IN THE NEWS
IL Fiorello hosted Tom Wilmer, NPR correspondent and host of Journeys of Discovery. We had a delightful afternoon talking and tasting all things olive. You can hear our interview at KCBX.org.
We also hosted writers from South Carolina, Los Angeles, and our own Suisun Valley for a tasting of oils and an educational session on how to make good olive oil. New friends with a new appreciation of an ancient product.
https://www.kcbx.org/post/journeys-discovery-organic-paradise-il-fiorello-olive-oil-company-suisun-valley#stream/0
LAVENDER WEEKEND
We will host the Fifth Annual Lavender Weekend at IL Fiorello. June 11, 12, 13. Co-Hosted with Denise Revel, Girl on the Hill. We will have many lavender products, lots of lavender food, and lots of lavender blooms.
LAVENDER CLASSES
Classes and fun events for families. We will hold our gracious and spacious classes in the "Tent in the Olive Grove".
A special presentation by Extension Professor Eric Mussen on Honey Bees, Pollination and the importance of bees in California agriculture. We will donate the proceeds from his presentation to the UC Davis Honey and Pollination Center.
LAVENDER POPCORN
Have you ever tried popcorn with our Lavender-Pepper Rub? Delicious beyond description.
LAVENDER WREATH MAKING
With Denise Revel, Girl on the Hill, wreath maker extraordinaire! Last year, her classes were full.
LAVENDER LUNCHEON
Oh the scent of lavender and lunch at IL Fiorello! Make sure you reserve a luncheon either before or after your classes.
LAVENDER BLACKBERRY BALSAMIC VINEGAR REDUCTION
A special balsamic just for lavender weekend.
Pair this with fresh blackberries and mascarpone crème.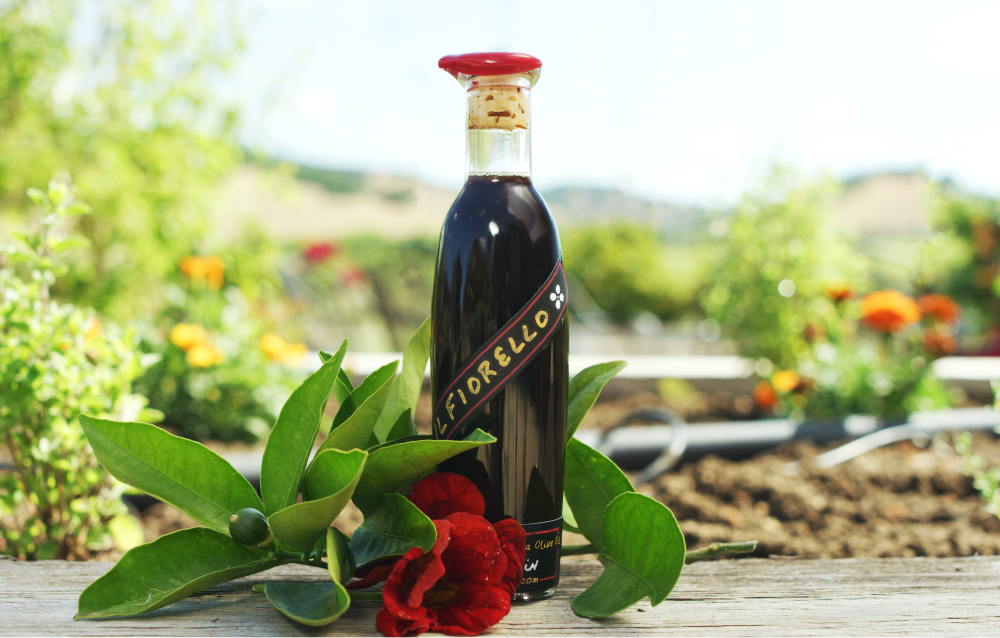 LAVENDER – SWEET AND SAVORY CLASS
The sweet and the savory culinary uses of Lavender. Scones, drinks, appetizers, and recipes.   Denise and Ann with Chef Isaiah have lots of delicious tastes and treats planned for your enjoyment.
Please look at our web site for all the classes for kids, adults, and fans of all things lavender.
Check out our YouTube channel for all the videos from last year's event.
Sign up early and reserve your lunch at the same time.
NEWS OF THE MILL
Our new Centrifuge installation is happening very soon. We will begin tours in June so everyone can see how we are improving our mill. We are also putting in a new crusher that will be much easier to clean!!!  I could only hope, as cleaning is such an important but time consuming part of milling.
ON THE OLIVE RESEARCH FRONT
Selina Wang PhD, Research Director at the UC Davis Olive Center and a Cooperative Extension specialist in the Department of Food Science and Technology, recently received the Olive Wellness Institute's inaugural award for achievement in olive science research. She is a fantastic researcher, congratulations well deserved.
Researcher Maria Luisa Astolfi from Spaienza University in Rome, Italy, with her colleagues have studied a more accurate method for determining the provenance of olive oil and understanding its components. This new method may also help crackdown on counterfeit and extra virgin olive oil adulteration. This may also lead to the ability to detect where the olive oil originated.
Remember that Extra Virgin Olive Oil is nothing but olives, no additives, no garlic, or no rosemary. When you are cooking put your herbs in fresh from the garden.
ON THE BUSINESS FRONT
It is with high hopes that we can soon begin our comparative olive oil tasting.
As California begins to open up once again, safety is our priority for guests and staff, while being able to experience our beautiful Olive Farm.
We also have jobs available at IL Fiorello, call us for opportunities.
We cannot wait to host you in person at IL Fiorello.
Ciao,
Ann