Back to Recipes
Lemon Olive Oil Tart
Prep: 20 min | Cook: 47 min
Total Time: 47-48
This is a lovely spring or summer tart.
Easy and very quick to put together. I use lemon juice from a combination of Eureka Lemons and Meyer Lemons.
INGREDIENTS FOR THE CRUST
1 1/2 cups all-purpose flour- sifted
5 tablespoons  sugar
1/4 teaspoon table salt
1/2 cup IL Fiorello Lemon Co-Milled Olive Oil
2 tablespoons water

More or less water, as needed to make the crust just hold together
INGREDIENTS FOR THE FILLING
1 cup  sugar
2 tablespoons all-purpose flour
1/4 teaspoon table salt
3 large eggs,  plus 3 additional yolks (reserve the whites for another use)
1 tablespoon grated lemon zest
1/2 cup lemon juice (about 3 large lemons)
1/4 cup IL Fiorello Lemon Co-Milled Olive Oil
Method
TO MAKE THE CRUST
Equipment : use a 9" tart pan with a removable bottom
Adjust the oven rack to a mid-position and preheat the oven to 350 F°
In a bowl, whisk together the flour, sugar, and salt.
Add the oil and water and stir until the dough forms, just to a crumble state.
Place three-quarters of the dough over the bottom of 9" tart pan.
Press dough to an even thickness in the bottom of the pan.
Crumble the remaining dough and distribute evenly around the edge of pan
Press the dough up and into the fluted sides of the pan.
Press dough to an even thickness.
Place pan on a rimmed baking sheet
Bake until the crust is a golden brown and firm to the touch, 30 to 35 minutes, rotate the pan halfway through baking.
Make the filling
About 10 minutes before the crust finishes baking, whisk the sugar, flour, and salt into a medium saucepan.
Whisk in the 3 eggs and the 3 yolks and completely incorporate.
Whisk in the lemon juice.
Whisking constantly, cook over medium-low heat.
The mixture will thicken and reach a temperature of 160 F°
About 5 to 8 minutes

(NOTE if using very fresh eggs this process will happen very quickly, so watch your timing)

Remove the pan from the heat and whisk in the oil
Strain the lemon curd through a fine mesh strainer into a bowl.

( This process takes out any remaining lumps and keeps the curd smooth)

Add the lemon zest and combine well
Pour the curd into the tart shell
Bake until filling is set about 8 to 12 minutes
Allow to cool completely
Service:  Garnish with fresh berries, or slices of fresh lemons
Chef's Note:
Create your mis-en-place completely before you begin, as this recipe comes together very quickly.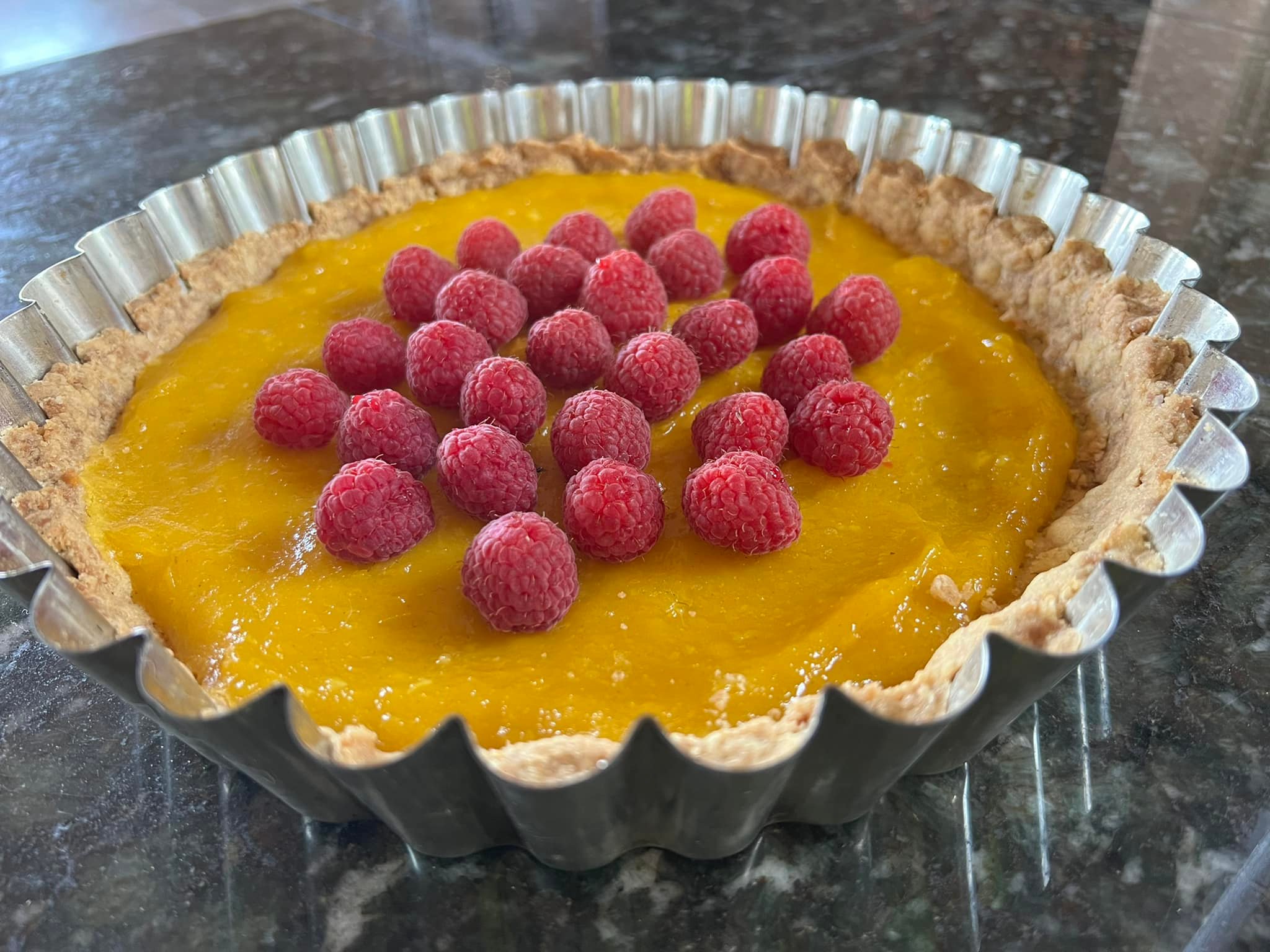 Print